Carla Sinclair, Kick-Start
Kick Start was a real kick up the bum for me. I feel much healthier. Friends have commented on how fresh my skin looks (I work in an office). I'm NOT lethargic anymore. Planning is key!! If I plan I know where I am and so does the rest of the family. The workouts fit into my lifestyle and there is no excuse. Having lost over 25lb and making this a lifestyle choice I know I'm on the right track!!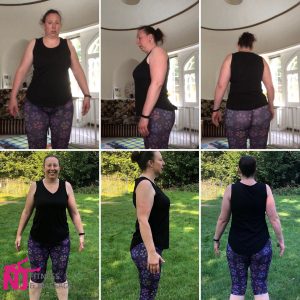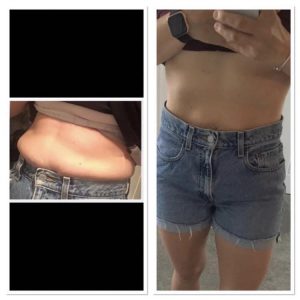 Kirsty Smith, Kick Start Review
WOW what an eye opener. I have always been a healthy eater but loved to binge on junk and never been able to loose weight or just feel happier in myself or more importantly my body since having my little girl. Then I joined the kickstart detox to challenge myself and really make a start at a healthier and more focused me. Daily workouts, on going support from Nic, support from everyone on the programme and a focused mind set I got through the 2weeks to curb sugar and focus on my greens. Being a veggie and fussy eater I really thought I would struggle but it has brought me back in touch with the kitchen and prepping meals that I really do enjoy. I lost 4lb in the 2 weeks and 1.5inches off my waist. Nicola was great and was on hand when ever you needed her, live chats and workouts really did make you feel like you was part of something to maintain focus. Thank you Nic for the kick start I needed, I look forward to pick things back up again and discover more about myself and what I am truly capable of. THANK YOU 🙂
Sam Byers, Fitness & Diet
I wanted to reignite my enthusiasm for exercising and lose the weight I had gained through lack of drive to engage with any form of physical activity. January, like every year seemed to be the perfect time to start a fresh with something new, and this was when I joined NJ Fitness and Massage on my kickstart journey. The 2 week detox and reset programme was tough, having to give up my daily coffee(s) and beloved Prosecco, but the daily 10 minute exercise videos and support from Nic, saw me through and I was amazed with the results I achieved. Keen to continue with this lifestyle change, I carried onto the Kickstart elevate programme, which transformed my way of thinking about not only exercise but food. I saw the weight drop off and my body start to tone, I could actually look in the mirror and be proud of what I saw facing back at me. I met my target weight and lost a few kgs more, dropped two dress sizes and felt so much more fitter and energetic. The midsection meltdown course, helped to really solidify the changes I had been making and turn them into daily routines. The support from each group was amazing, especially on low days, Nic and other members took the time to cheer me on to achieve my goals. My kickstart journey has not been a "fad," it's been life altering and has inspired me to be a better person, role model to my daughter and family. It's a journey that I am continuing, and enjoying just as much now as I did when I started.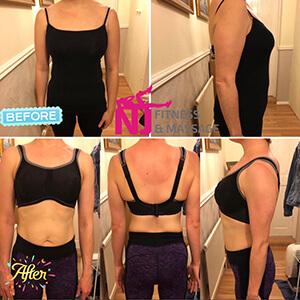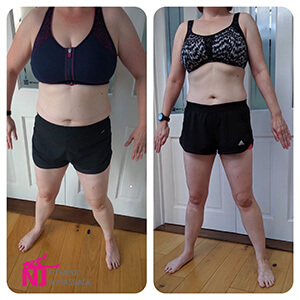 Adele Gilpin, Kick Start
The Kick Start club has been fab! I've really enjoyed the short, focused videos to dance, kick, punch, plank and sweat it all out to every morning. I've lost 30cms off my body, can plank like a boss and I feel awesome!
Emma Hendry, Kick Start
I did my first kickstart programme in January, and loved it. I didn't think I had time to exercise but the 10 minute daily workouts fitted perfectly into my morning routine.I've learnt so much about food, nutrition and wellbeing and I have changed my relationship with food for the better.Having the group support and the coaching from Nicola has been invaluable and has enabled me to achieve my weight loss goals and maintain them.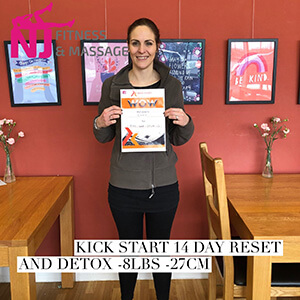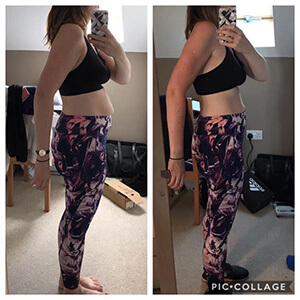 Sian Burnage, Midsection Meltdown
I cannot recommend Nic's Programmes enough, I have also completed the detox and midsection meltdown programmes and cannot believe the results I've achieved in a month! Nic is such a great coach and through helping me to change the way I think about food and exercise and approach both I have managed to achieve goals that a month ago I thought were totally unachievable. Would happily recommend to anyone!
Emma-Jane Page, Detox Plan
Detox plan testimonial Can't say enough good things about this plan! I'd avoided it to start with, said I could do it on my own and didn't need any help! I was wrong! I needed the support group, I needed the guidance, the accountability and I needed the recipe ideas! And I thrived on it! The first week was really tough! But really, my body was just wondering why for the first time in ages it wasn't just being fuelled with snacks and caffeine! And whilst that sounds like the perfect diet for a new mum! It wasn't helping with my energy levels like I thought it would, it wasn't filling me up, and it certainly wasn't helping me get out of maternity clothes and into my own wardrobe again! So day one and two of no snacking! Well I thought I was going to throw in the towel! But I didn't! Making it to day 3 was a massive turning point! Then I started to feel good about myself! I wasn't bloated, I wasn't constantly craving sugar and carbs, and I could function perfectly well with a peppermint tea!! And then week one results come in! I'd lost 6lbs and a lot of cms! I couldn't believe it! I mean, if that doesn't spur you on to smash week 2 then I don't know what will!! This was the main turning point for me, and the daily workouts and support and live chats are all a bonus! I needed a kick up the rear and this is exactly what it did! Finding 10 mins a day to get a workout in is a lot harder than it sounds with a new baby, but it's manageable most days! And although the morning is better, doing it later on when you get chance is better than not at all! I'd really encourage anyone who thinks they are stuck in a rut to give this a go!It's really helped me learn to manage my "wriggle room"